The history of mDetailer™
The history of mDetailer™ is comparable in its origins to many other communication technologies. Initially, the life sciences industry demanded a mobile technology to enable drug representatives to provide greater detail in their case studies. Before the explosion of the internet and accessible information, these representatives were the primary source for drug information for HCPs.
moPharma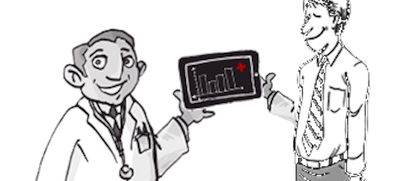 "Electronic details" were designed to give reps a technology solution for product education, communication and demonstration.
HCPs expected something in return for their time with a rep, and detail aids were a useful compromise; reps could discuss the benefits of their product while a physician could learn about the impact of the product in their patient's lives. Reps found a new prescription channel and physicians had a new prescription option for their practice.
HCPs expect up-to-date information from pharma
Communication didn't stop at that conversation. New health information, studies, regulatory messages and any other relevant updates about the product were expected to be relayed back to the prescribing HCP as new information became available. Pharma companies were again in need of an effective medium to enable continuous information flow to their users. The solution was found again in new technology – and the many channels becoming available across the internet. At this stage we saw web blogs, RSS feeds, direct mail campaigns, email, brochures and sample honoraria.
Niche markets want to access information at their leisure
Targeted marketing, not mass marketing, became the obvious cost-effective strategy for communicating with the market. While the internet afforded endless opportunities for broadcast messaging, electronic details were smartly being focused on niche healthcare markets and delivering relevant, personalized information to providers.
The tendency to target high-volume prescribing physicians was dropped in favor of the niche markets which were now just as accessible through online channels as any other mainstream market. The model of information delivery was transformed. Physicians had adopted the internet in the workplace and were beginning to enjoy the benefits of information accessibility: in 2008, eighty-four percent of physicians used the Internet and other mobile app development technologies to access pharmaceutical, biotech or medical device information – a twenty percent increase from 2004. Why wait for a rep to return a phone call when relevant prescribing information was at their fingertips? Physicians accessed search engines for clinical treatment information outside of regular office hours, too: 56% on lunch breaks, 70% after work or on weekends, 77% between patient consults and 41% during patient consults.
The industry created tools to enable physicians to access relevant content. With this shift we saw web portals, websites, blogs, journals, and surveys being offered as a means to access prescribing information any time of day.
Rep revival: interactivity enables better conversation between rep and provider
In the market's most recent shift, evidence shows the trend towards interactive collaboration between HCPs and pharma rep's new set of tools in mDetailer™ . "physician handling of tablets in meetings makes them more likely to spend more time with the rep, to research further information online, to request samples, and to prescribe the drug discussed." HCPs find more value from visits with reps when they are able to manipulate the detail aid themselves and actively participate in the conversation. Detail aid creators are naturally responding with more interactive, targeted, accessible features than previous formats carried.
"Tablets clearly enhance details, lengthening rep visits and piquing physician interest in follow-ups, and 54% of mPharma Physicians agree that they make meetings more valuable."
In this stage of mDetailer™ evolution, "flashy" technology begins to find traction using features like face-to-face video conferencing with key opinion leaders, gesture sentiment tracking, animated video sequences, on-visit report generation, digital leave-behinds, streamed content, etc. Reps curate the flow of new information, listen to the thought process of physicians they visit and react to the content needs as they change.
"Physicians expect to be wowed, and where tablets are merely replacing printed materials, content must be crisp, with intuitive navigation and responsive design."
The on-site, pre-approved customization of messaging is a prime example of a feature this evolution of interactivity has created. We see regular use of tablet mDetailer™ aids, curated online content by profile, niche market mobile apps, streamed or cloud-based content, and rich media formats for content delivery.
mDetailer™ integrates closed loop marketing
Another mDetailer™ feature is growing quickly: an engine used to capture the preferences and prescribing behaviour of physicians, known in the industry as CLM or closed loop marketing. Suddenly marketers and brand managers have access to an unbelievable level of visibility into their target markets. Responses from actual visits are recorded, tracked, and measured on either a macro or a micro level – whichever layer of granularity a campaign needs.
The history of mDetailer™