10 Tips, for Outsourcing App Development to India
Are you facing challenges when outsourcing your company's software development?Here are simple 10 Tips that'll help you succeed. : moPharma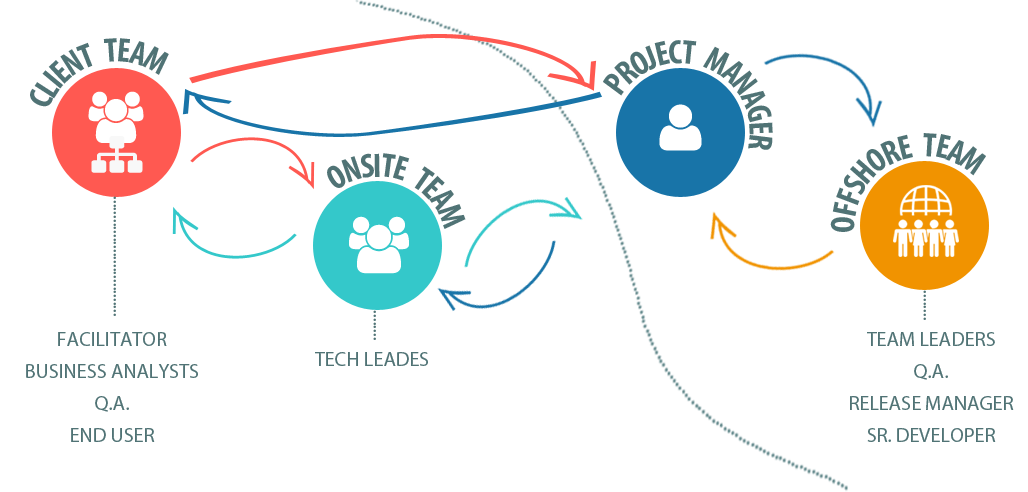 Steps: Outsourcing App Development
Know your Outsourced company

First things first, it is important to know what kind of outsourced company you are dealing with. Your choice of company is a matter that depends largely on your requirements. The best way is to take time and review the apps the company has previously built. Also, you may need to take note of what people say about the developer in the reviews.

Determine your budget

You get what you pay for. If you're on a budget, go to the lowest bidder. But if you want software that's elegant and reliable, expect to pay a reasonable amount.

Aim for longer-term contracts

If you want better services, I'd advise you to seek long-term contracts. This allows the outsourced team to put dedicated resources into your project. The team will also know your business inside out, which makes them more motivated about your project's success. They'll perform better as a result. On the other hand, short-term engagements may be cheaper, but won't guarantee you the expected outcome by the deadline.

Be engaged

Set goals. Once you have a list of all your expectations, planning with the vendor becomes simpler. You'll also need to get your colleagues ready to communicate with the outsourced team. Your participation throughout the project is very important. This sends a message to your partner that you want your project to succeed. In fact, I'd encourage you to engage with the vendor every day.

Go Agile, forget Waterfall

Greater adaptability and faster response times in the software development process are important. As such, agile methodology is preferred over traditional waterfalls methods. Agile gives you greater transparency and superior results within the shortest time possible. It'll help you save costs.

Visit your offshore partner

You need to trust the offshore vendor you're working with. Seeing is believing: it helps to visit the business partner occasionally to see how it operates. It also shows you're engaged. Why not also treat the visit as a chance to take a vacation?

Make sure your vendor allocates resources to testing

People are prone to mistakes. Check that they're allocating time to identify bugs before the software is released.

Conduct code reviews with vendors

If you're a software developers yourself, you'd know how good software architecture is built and what good code looks like. If you're not, get a colleague or consultant to help. By doing regular code reviews, you'd get familiarized with the code early and know how to build on it once the project is handed over to you. You might even learn a thing or two about your vendor's methods.

Address technical debt and refactor code

Before the project is turned over to you, check if there are opportunities to clear technical debt and refactor bad code. You're doing yourself a favor by saving time on maintenance later.

Check if the vendor uses advanced techniques like continuous integration

Practices like continuous integration are highly recommended. It helps you detect software problems early by automatically checking code for defects. Another useful technique is automatic deployment. By following these steps, you'll have an easier time working with your outsourcing software development company.
Steps to Outsource Your App Development Efficiently
As a business owner, you might be having a terrific product or service and want to create an App to engage your customers more or to increase your revenues. But size, budget, lack of tech team, etc. can be obstacles for your in-house App development. The solution is, to outsource your App development to the right mobile app development company to execute your business App idea.
STEP 1 — Defining your requirements for app development
Be as clear as possible as to what your requirements for your app are
Who is the target customer?

What is going to be the key feature?

Is the app going to be free or paid?

What will be the revenue generation model?

What platform do you need – iOS or Android?

Will it be a native or cross-platform app?
STEP 2 – Identifying the right partner
Take time to research and identify the top mobile app development company who is well experienced in developing the kind of app you need. Check references, see their portfolio and ask questions. Once you have finalized your partner, make sure they clearly understand your requirements.
Apparently, knowing the type of app you want will define what you'll hunt for in a developer. Now you can look for a developer who is skilled in creating the kind of apps you desire. For instance, if you want an app compatible with an iOS system, you'll surely need a developer with a background in creating iOS compatible mobile applications, or if you want to develop a game, you will look for the top in mobile game developers community.
There are different ways of how to find a developer for an app, but the simplest way is to place your ad on a freelancer board like Freelancer.com or Upwork.com (formerly oDesk.com) where qualified professionals from around the world will bid for your job.
You can set a price for the project and put up a description of the project together with qualifications you are looking for in a developer. If you go with UpWork, you can look at developer profiles and invite specific applicants to bid for your project.
Whatever you do, make sure you are fully explicit about what you want from the developer. Tell them everything about the platform, features to build, and what you expect regarding their skills.Even better, to make sure you aren't getting a generic copy and paste responses to your bid and to ensure the bidder has read your entire post and is clear on what you need, somewhere toward the end of the post put a line asking the bidder to do something uncommon when responding.
For example, you can ask for a particular action in the post like "put the words 'AWESOME APP' in the first line of your post to show you've read the job requirements, and you understand what the job entails." You'll be surprised how quickly something this simple can weed out the non-proactive candidates.
Whatever board you use, make sure you read up on the history of the developers enquiring your project. If the profile is insufficient or you need more information, by all means, contact the prospective developer and ask questions.When working through UpWork and Freelancer.org, you'll be getting bids within a few hours of posting. Don't jump the gun and hire the first developer that applies. Give your post a few days to a week to accumulate prospective bidders to broaden your search for a qualified app developer.
STEP 3 – Plan, Plan, and Plan
The next step is to draw up the plans and define the framework. Set clear expectations on the timeline, budget, and outcome to your tech partner. Your app development company will design and develop a project plan with wireframes and milestones. Establish a calendar and set milestones.
STEP 4 – Regular reviews and tools to do them
Do regular reviews of your project with your mobile app development company. This will ensure that your app development is on the right track, and is not deviating from the set goals or is overshooting on time or budget. And when it comes to tracking, you don't have to worry about issues like being in different time zones or at different locations. Make good use of free project management tools, like JIRA or Basecamp, to keep an eye on the project status. Apart from email, you can use tools like Skype and Hangouts to be in touch with the team to give your feedback.
STEP 5 – Test and Re-Test
Once the app development project has reached its Beta stage, test it on different kinds of functional and rigorous testing to check its performance. Fine tune as required. Ensure that it runs smoothly and is glitch free.
STEP 6 – Delegate and Collaborate
When you outsource your app development, take benefit of your mobile app development company's experience and expertise in this field as they are more in tune with the current app trends. Ensure that you and your app development company are in total synergy to develop an app that is perfectly meeting your needs and requirements.
STEP 7 – Support and Maintenance
One of the huge benefits of outsourcing app development is that the same vendor will be able to handle tech support and maintenance after publishing. They will be able to take care of regular updates, fixing bugs etc. and ensure the smooth running of your app.
Pros of Outsourcing Mobile App Development
If you are still skeptical about the process, here are the pros of outsourcing mobile app development broken down for your understanding.
The app development process requires countless elements with seamless integration that work smoothly. There are many experienced firms that have a long standing expertise in the matter.

By outsourcing mobile app development, you can benefit from extensive expert knowledge. This will guarantee the delivery of best results.

Another major benefit is the extensive market research involving the intended masses. This is conducted to affirm the success of the app development product.

Cost effectiveness is another advantage. While an average app costs $150,000-$450,000 to build, outsourcing can reduce the cost to $10,000-$80,000.

Other benefits include resource management as well as end-to-end services and providing technical support. This continued services can help the company add new features later on or do patch repairs when necessary.

With the right marketing plan, a company can showcase their app and solidify its success.
Conclusion
Businesses have embraced mobile app development outsourcing as it is the biggest growth accelerator. Small to medium-sized businesses can especially benefit a great deal from it. In addition to being cost effective, it offers great productivity with lower risks and better time management options. All you have to do is pick the best mobile app development company. By keeping above points in mind, I am sure you will be able to choose the best mobile app development company, which will prove to be a beneficial to you. Let me know if you need any help here?Outsourcing can help companies know who are the best in the field and who are compatible with their work ethics, which can help them with future hiring. Without hiring any extensive in-house team, companies can have all the advantages of the mobile app development by outsourcing.
Need an App for your Business?
moPharma Digital Solutions India Pvt. Ltd. is one of the leading mobile app development companies in Mumbai. Our tech team is perfectly placed to design and develop apps which will add value to your business.
If seeking for App Development Company in India, consider moPharma, One of the Top Mobile App Development Companies in India.
9 Steps, for Outsourcing App Development to India