10 Top Secret Tips from Effective Project Managers
We spoke with several seasoned pros to learn about the best skills and tools for effective project management. These top secret tips will put you ahead of the curve in this transitioning field. : moPharma
Project management is a field that's ever-evolving, making it the perfect opportunity to jump right in. Traditional project management involved email, written reports and in-person meetings, but technology has made it a whole new ballgame. A successful project manager needs to bridge the gap between past and future.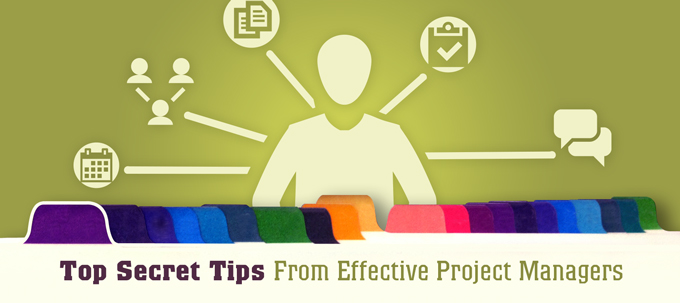 Secret Tips from Effective Project Managers
What makes an effective project manager?
The project manager is a multitasker. Depending on the organizational structure of the company, the project manager can work with different project stakeholders such as the functional manager, head of project portfolio or program, quality manager, the finance manager, the strategy department of the company, and of course his team. To be an effective project manager, he must first of all know well his role and manage/coordinate with stakeholders involved in the project.
The skills and responsibilities of a project manager
An effective project manager must have a sound knowledge of project management methodologies and be able to apply his knowledge while managing projects and be able to influence or motivate his team. To do so the project manager must develop hard skills that allows him to have relevant & comprehensive analysis of difficult situations and soft skills to manage the team effectively and appropriately. Following are some key words or concepts that are fundamental to be an effective project manager:
Leadership


Team spirit / team player


Motivation


Communication


Influence


Decision making


Political and cultural awareness


Negotiation skills / style


Inspiring confidence or trust


Managing conflicts


Mentoring / Coaching
The core qualities of project manager
An effective project manager is a very good negotiator & organizer. Form the beginning of project, he clearly defines the objectives, the content of the project and builts a team that matches the needs of the project. As a good manager, he must have a global vision and must ensure the availability of resources and makes sure the project is carried out on time and under budget.
A project manager is not just a technical leader or a functional manager. He is less involved in the purely technical aspects but must have sufficient knowledge to explain the technical efforts required or imposed on his team. He must be able to interpret customer needs and steer his team in the right direction to achieve the objectives. He should facilitate the project progress by anticipating as much as possible the excesses, risks and threats.
An effective project manager is also a good human resources manager. He knows how to manage conflict, handle stress and create a favorable climate throughout the lifecycle of the project.
Top Secret Tips from Effective Project Managers
Write down everything
Project managers are responsible for juggling all of the small details of a project like mobile app development or software development. "It's easier to sift through notes than to completely forget something.
Hayden makes use of old and new technology by using customized Excel spreadsheets and programs. These tools track everything from notes and task management to time and resource planning.
Gain your team's support
All of the technology in the world won't make you an effective project manager if you don't have your team behind you. Earn your team's trust by listening to them, especially about risks and obstacles. You'll make more informed decisions if you've got a firm handle on your team's abilities.
Communicate well
Communication among your team is essential to success. Tools like Skype and other chat android app or mobile app, it easy to stay in touch with your team at all times. Even with these slick tools, some people may still prefer phone calls or face-to-face interaction.
Radley says it's important to understand how each member of your team prefers to communicate. This will help prevent misunderstandings and will allow you to strategize the best way to introduce your team to new technology in mobile app development or software development.
Stay enthusiastic with the right tools
The best way to get your team excited about a mobile app development project is to show that you're passionate about it yourself. Don't let your enthusiasm get bogged down by a mess of details. Turn to programs to track time and expenses so you can focus on the heart of the mobile app development project.
Get to know keyboard shortcuts
Project managers have a lot on their plates. Cut down on wasted time by learning keyboard shortcuts for your web browser, email and other commonly used programs. This trick will gain you hours of saved time in the long run!
Choose the right person for the job
"If you assign the wrong person to a task, you're reducing your chances of success before the software development project even begins,". Use a site like Trello to track, evaluate and delegate tasks to your team. The simple layout and clear-cut visuals make it the perfect tool for effective task management.
Use a CRM system
"A good CRM system can help you manage your team as well as clients and projects like mobile app development or software development,". A customer relationship management (CRM) system is a project manager's best friend. Staying organized with a CRM like Insightly will keep you on top of your tasks so no deadlines are missed.
Create a readable timeline
The right visuals give you an at-a-glance view of your project's timeline without requiring you to flip through a calendar. Meyer recommends using Gantt charts to quickly check the progress of a project. Programs like Smartsheet have Gantt charts already built in, saving you the time and hassle of creating your own.
Prepare for tech failure
You need to stay in touch with all of the decision makers on your project, even if your email is down or you spill coffee on your laptop. Be prepared for tech mishaps with a system that keeps your info backed up across multiple devices.
Look for a tool like Basecamp to keep you connected in any situation, recommends Shilonda Downing, founder and project manager at Virtual Work Team. Basecamp is user friendly, allows for easy team collaboration and has a mobile app to keep you up-to-date at all times.
Write a postmortem report
Effective project managers are constantly looking for ways to improve. Evaluating each mobile app development project or software development project after the fact will help you recognize what went well and what could have been done differently, says Velasquez.
This is the perfect time to evaluate the success levels of the technology and communication tools you used during the project. You can move forward with successful tools as a best practice for future projects.
Now is your time to shine
There's no time like the present to stand out at work. Taking advantage of these tips and tools will make your boss wonder why you haven't been promoted yet. It's just the boost you need to take your career to new heights.
Top 4 Skills of an Effective Project Manager :
1. Higher Emotional Intelligence :
They showcase higher EI while managing people around them, they are absolutely clear about the fact that they are not managing machines, but the talented individuals who are skillful at their job, having their own strengths and weakness as human being. Project Managers are the leaders with high emotional quotient, they focus more on harnessing & honing the soft-skill aspect of their team players. They develop strong chemistry with all the stakeholders of the Project which fosters great team work and smooth process implementation .
Communication With Utmost Clarity :
An effective project managers understands that their prime role is to effectively communicate what is expected from whom , 80 % of the time of managers goes into communicating about the project tasks, so they do lot of homework to ensure their is no loop hole in the system and everyone around is well and timely informed. So It's of prime importance that they effectively convey the project vision, ideas, tasks, goals and faults supplemented with well documented presentations to all the team members and clients. Project Manager always needs to be clear about what they want to communicate and to whom. Any kind of communication gap can fracture the functioning of project execution so they take the accountability and responsibility of processing the right information to right people, at the right time.
3. Great Negotiator :
As we discussed great managers are excellent communicators and they bring this skills into great use while they negotiate on no of resources, project budgets, schedules, scope creep, and a variety of other compromises that are unavoidable. They are flexible, diplomatic but effective negotiator and manages to keep all the stakeholders happy and satisfied. This skills of theirs come handy when some unwanted , unplanned dynamic situation pops up indirectly effecting the project delivery.
4. Have Great Sense of Humor :
Effective Project Managers shows great leadership skills specially when cloud of fear, stress and chaos pops up . As project development involves humans the emotion flows and exchanges aggressively which can lead to some loss of energy , excitement among peers. In this situation managers shows great sense of humor and balanced emotional approach to inspire and motivate the team. Great sense of humors helps managers to have different perspective to problematic situation , it helps them lifting the morale of the team and build a congenial work environment where everybody thrives to their best potential. Having this sense of humor also give managers an edge to deal with difficult clients . It gives them power to leads from front and also to confront from front
The difference between really effective project managers and those who muddle through
Project management is what project managers do, not what project management software or a methodology does. No software exists that will deliver a project on time and budget all by itself. No matter how good the software or methodology, it is only as good as the people using it. Even the most expensive system is only a tool, whatever amazing tricks it can do. And no matter how sophisticated it is - software like Microsoft Project or a methodology like PRINCE2 can only be used as a tool, not a crutch. The direction must come from outside. An effective project manager is someone who understands this and knows how to provide the necessary leadership to guide projects in, on time and budget. Hard-and-fast goals require soft skills.
Successful project management is about planning, not guessing, and successful leaders draw from their repertoire of soft skills to guide and influence project teams and stakeholders. Team members respond to leaders who persuade by example. Good managers demonstrate strong personal ownership of a project because that is what leaders do. But ownership and oversight go hand in hand with the ability to delegate, coach and communicate to team members in ways that are clear and consistent.
Ownership applied here, moreover, does not mean doing everything yourself. That is not only exhausting but self-defeating. It is also demoralising to your team. By not delegating appropriately, you are sending a message that you lack confidence in your teams' abilities to achieve project goals and objectives. In the pressure to get the job done, managers may be tempted to shortcut the process of team building by acting on their own or shouldering too much. It often seems quicker and easier to do something oneself than to take the time and trouble to teach someone else how to do it. But a good coach knows that team members must learn their assigned tasks to earn their self-confidence. Coaching is education, a process of explaining, mentoring, and motivating, in terms that are intelligible and meaningful to each individual.
Project teams and their leaders need time to learn how to function together, and this is a process that requires care and patient oversight. Unlike the software or methodologies they use, project managers and the teams they lead are not pre-programmed. Successful team leaders need good people skills, or they won't be very successful. And team members need leaders with good soft skills, or they won't be very successful teams. Project management software and methodologies are great tools to make projects happen, but they do not function on their own, or in a vacuum. They work because people do - together.
If you are looking to build your next (or first) mobile app and need help with one or more of these steps, you're in luck! The moPharma Group welcomes app owners at any stage in this process. Whether you are a startup or Fortune 50 company, we have the team and knowledge needed to deliver a fantastic mobile app. Please don't hesitate to write us today.
10 Top Secret Tips from Effective Project Managers