CONSUMERS ARE CRAVING BETTER MOBILE EXPERIENCES – BUT ARE ANY FMCG BRANDS FEEDING THIS DEMAND?
The truth is that the marketing directors of FMCG brands should realize that consumers spend more time on mobile apps than any other digital channel. According to ComScore, 90% time is spent on mobile apps while only 10% is spent on mobile sites.
moPharma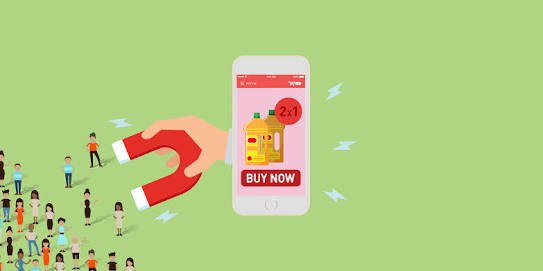 Shoppers can't go long without: fruits, dairy products, cleaning agents, soft drinks… We need Fast-Moving Consumer Goods to enjoy functional lives, and you (FMCG brands) need loyal customers to maintain healthy bottom lines. However, there is one challenge that is currently preventing FMCG brands and consumers from blossoming in the digital age.
Most FMCG brands simply aren't engaging their customers on the most popular platforms of the 21st-cenutry, hence on iOS and Android app stores, the majority of FMCG brands apps are still nowhere to be found.
This is a massive marketing mistake.
Despite the imperative need to actually develop a mobile app, in which case many FMCG brands refuse to or are simply not "there" yet, there are two main problematic issues with mobile apps in general.
App uninstall rates overall are extremely high. 1 in 4 apps are never used again…
App engagement rates and user retention rates are plummeting which negatively impacts conversion rates, such as checkout cart/transactions, brand awareness/image, brand advocacy, reviews and ratings on stores, etc.
While FMCG brands have yet to solve these problems, the evidence is clear. Consumers are demanding faster access to valuable information, relevant promotions, and humanized relationships in their apps without the irrelevant noise caused by traditional marketing methods like an impersonal push message. There's a significant demand for better mobile experiences in the FMCG world, and it has largely been ignored so far.
Surprisingly, a select few FMCG brands are in fact beginning to meet these hungry customer demands by capitalizing on a few creative apps for building healthier customer relationships. We are finally starting to at least one FMCG company "take the plunge" into the mobile app sector.
For this miniature case-study, I've investigated how Coca-Cola, one of the most popular FMCG brands of all time, is using three separate mobile apps to provide customers with some interesting value propositions (or experiences for users). Here's what I found.
Coca-Cola Freestyle
The Coca-Cola Freestyle mobile app provides shoppers with instant access to a virtual community revolving around one of Coca-Cola's most beloved products – the Coca-Cola Freestyle machine.
In case you aren't familiar with the product, the Coca-Cola Freestyle machine enables customers to choose from a wide variety of Coca-Cola beverages in a fountain-style machine. Customers can also mix-and-match beverages to create unique flavor combinations using the Freestyle machine. The machine has been a massive hit in the U.S. and select international markets, and I believe, has boosted Coca-Cola's brand loyalty tremendously.
While the machine itself is pretty cool, Coca-Cola also realized that there was a massive opportunity to connect with customers who wanted more from the Freestyle machine. Customers showed excitement regarding their newfound ability to create unique beverages using Coca-Cola's revolutionary invention, so Coca-Cola naturally jumped on the opportunity to build a mobile app surrounding this fiery demand.
The Coca-Cola Freestyle app empowers mobile users to instantly find Coca-Cola Freestyle machines nearby. Users also gain access to special promotions, and can create and share drink recipes with others. People can also "check in" and earn badges using the app, which helps to create an addictive or gamified user experience in which users can play.
I think the most interesting feature that Coca-Cola has added is the ability to sign in and connect to a local Coca-Cola Freestyle machine in-person. Shoppers using the Coca-Cola Freestyle app can scan their device at the machine, and instantly pour a beverage that they've previously designed. This provides users with a deep-rooted emotional connection to the product, and allows people to access all of Coca-Cola's best-selling FMCG's at the touch of a few buttons.
Since releasing the Coca-Freestyle app in 2013, it's safe to say that Coca-Cola has been attempting to unlock the massive potential that mobile app development company offers. While they've made positive progress with the Coca-Cola Freestyle app and accompanying machines so far, tweaking this concept even further can drive drastic results.
Tip #1: Use Mobile Analytics that draw data from location based technologies For instance, if Coca-Cola can accurately track their mobile users' proximity through geo-fencing, they can predict precisely where to position new Freestyle machines in the future (or market Coca-Cola Freestyle promotions in a similar fashion). Or, by analyzing user-generated drink selections using real-time mobile analytics, Coca-Cola can release popular beverage creations to the general public.
Using actionable mobile analytics is a viable opportunity because it enables mobile app development company to launch more refined mobile journeys based on real-time data. One of the most important tricks that FMCG companies can learn from Coke's mobile app development marketing strategy is developing a direct emotional connection between a FMCG brand image and the mobile app itself.Coca-Cola's Freestyle machine and mobile app go hand-in-hand, and creating location-based links such as the machines is a savvy way to engage with your mobile-savvy audience. Not to mention that once users have installed Coca-Cola Freestyle on their smartphone device, Coca-Cola could in theory leverage automated mobile marketing tactics by sending valuable offers to their customers on a continual, sporadic or location proximity-based timeline.
Coke Drink App
This simple yet effective app is designed to develop fun emotional bonds with youthful Coke drinkers. By using the Coke Drink mobile app, customers can simulate the visual and auditory sensations of drinking a real glass of Coca-Cola.
Through Coke Drink's user interface, customers can swirl their virtual glass of Coke (powered by the iPhone's accelerometer), add cubes of ice to their beverage, and listen to the satisfying sound of Coke being gulped.
We all know that Coca-Cola loves it when customers hear the sound of a bottle of Coca-Cola being popped open and poured into a glass full of ice. People constantly hear this sound bite being played on television commercials, movie previews, radio advertisements, and even in Hollywood films. Coca-Cola wants customers to experience this imagery and audio as often as possible, since it has sort of a Pavlovian effect that drives people to drink more of their product.
The highlight to grasp from the Coke Drink app is that it's able to provide a fun, humorous and game-like user experience using a simple concept, and it absolutely works.
Tip #2: Use an Advanced Mobile app development company Loyalty Points System with Incentivizing RewardsOne small thing to note is if Coke plans to revisit and redevelop this app again, given that the fact that it's been last released in 2011, is that the app could bring greater value if it included a mobile loyalty strategy by implementing a strong points system. If users were incentivized to earn points through the app in a fun way, this would create a great opportunity to send users' coupons and rewards after achieving certain levels or milestones. In other words, gamifying the Coke Drink app slightly more would exponentially increase its playability, while also inviting greater numbers of youthful Coke drinkers to interact with the brand.
Coca-Cola Ambassador
While all of Coca's-Cola mobile apps are replicable by other FMCG brands, the Coca-Cola Ambassador app is perhaps the most obvious example of brand imaging through an app which all major corporations can learn from.
This is an informational and social app that connects customers to practically everything about the Coca-Cola brand. The app is intended for anyone associated with the Coca-Cola brand, including friends and supporters of the mobile app development company. Everyone is encouraged to use this app and become an "ambassador" of the Coca-Cola brand. The app provides users with instant access to mobile app development company news, a full list of Coca-Cola brands and products (you'd be surprised), and even a geographical map of Coca-Cola bottlers nearby.
One of the most compelling features of the Coca-Cola Ambassador app is encouraging users to submit "actions" in exchange for virtual points. These in-app actions involve snapping a picture of yourself while drinking a Coca-Cola beverage, giving a can of Coke to someone special in your community, and undertaking a variety of other fun tasks that enable Coke enthusiasts to acquire new rankings or "status" within the app. This is a great system that allows users to enjoy the process of becoming deeply involved with the Coca-Cola brand.
This general informational style of mobile app is a clear-cut choice for the majority of FMCG companies that have yet to make the move into the mobile sector. Giving users instant access to your entire lineup of products, company-wide news, and social media profiles is an extremely low barrier to overcome, which also happens to provide customers with an abundance of long-lasting value.
There's just one general area where Coca-Cola Ambassador can still improve. This app is a hotbed for some of Coca-Cola's most dedicated fans to spend time in, so we would like to see more opportunities for users to become involved. Personalizing user engagements and giving the Coca-Cola Ambassador user base greater value in general (through promotional offers, persistent communication and rewards) would go a long way in building hyper-loyal groups of customers. This would spark a chain of perpetual free marketing for Coca-Cola, since their core group of "ambassadors" would be taken great care of.
Recap:Overall, having the opportunity to build direct and instantaneous lines of communication with mass consumers is something that FMCG corporations haven't given much thought until recent years.While companies from various industries have jumped to execute marketing campaigns in the mobile age, doubts and uncertainties have prevented most FMCG businesses from making similar progressions.
However, times are rapidly changing, as brands like Coca-Cola and a few selected FMCG corporations are proving that customer relationships must be developed where shoppers are spending the majority of their time – inside of mobile apps.These emboldened companies are proving to the world that mobile marketing isn't just the way of the future for FMCG brands – it's happening right now.Because of Coca-Cola's willingness to build multiple applications for their customers in the mobile marketplace, the company now has the opportunity to take their customer engagement to the next level. The "hard work" has largely been done, since Coca-Cola has set good foundations in the App Store and Google Play Store. Now, when it comes to interacting with customers directly, the sky is the limit for Coca-Cola.
If Coca-Cola can implement a stronger mobile marketing strategy, they hold the potential perform 1 on 1 mobile customer engagement, meaning that individual Coke drinkers can be sent personalized coupons, rewards, messages, videos, surveys and more in a matter of seconds with a mobile automation platform. It's also possible for FMCG companies like Coca-Cola to leverage the analytics collected through app sniffers by analyzing customers based on individual app usage, purchasing habits, drink preference, demographics, and various other facets.
Tip #3: Implement a Contextually-Driven Mobile Engagement StrategyAlthough, to truly raise the bar, Coca-Cola has to implement a world-class contextual mobile engagement strategy at once with the support of an advanced mobile marketing solution that integrates with their current apps. This is how Coca-Cola will be able to reach out to mobile users as they're shopping in supermarkets, retail stores and restaurants. Imagine the sales growth that FMCG brands like Coke can realize by engaging customers during the exact moments when customers are ready to buy. By offering well-prepared and high-value information to customers while they're in the entryway, beverage aisle, or checkout line of grocery stores, people will inevitably drink more Coca-Cola products.
By learning from innovative brands such as these, more FMCG companies can develop mobile apps like the Coca-Cola Freestyle, which provides a tangible connection between mobile devices and FMCG's. Or, companies can choose to develop lighthearted and playful mobile apps like Coke Drink, which helps to build bonds with youthful customers. FMCG brands might even want to aim for the most obvious option at hand, and develop an informational style of app like Coca-Cola Ambassador, which could build a bustling community of smartphone-wielding customers around your entire organization.How you choose to approach your mobile marketing strategy isn't as important as simply getting started on it today. Take charge of your audience, and stop relying solely on third party social mediums to get your message across.
Bottom Line:
By developing a mobile app that fits your FMCG company's goals, and pairing it with the appropriate mobile marketing automation platform, you'll be able to deliver promotional messages, issue revenue-driving rewards, and build direct relationships with your customers in ways that benefit everyone involved.
Because shoppers have shifted their focus to mobile, that is also where FMCG companies need to be. Moreover, by focusing on engaging mobile users at the right moments, FMCG companies can create clear pathways toward absolute mobile marketing success. FMCG shoppers ultimately want better experiences on mobile, and FMCG brands will need to provide the mobile apps, clear communication, and mobile marketing efforts to happily engage with their customers over the long-term. Thankfully, MobileBridge exists to help create mobile experiences that companies and their customers can rely on.
CONSUMERS ARE CRAVING BETTER MOBILE EXPERIENCES – BUT ARE ANY FMCG BRANDS FEEDING THIS DEMAND?