News: Thane-Rural-Police becomes Computer-Savvy
Ajit Shirodkar, software expert and Director, moPharma says, "Usually a crime is manually registered and then report is sent to higher police officials. This involves time wastage and unnecessary delay in case solving. PIR enables you to access any crime data to any time period instantly including statistical data for a particular police station for a specific crime also. : moPharma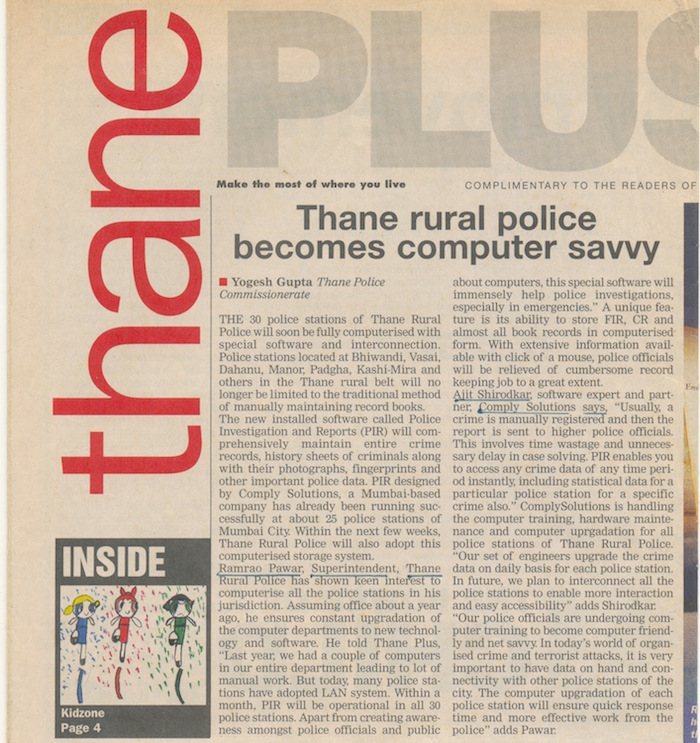 News: Thane-Rural-Police becomes Computer-Savvy
The 30 police stations of Thane Rural Police will soon be fully computerized with special software and interconnection. Police stations located at Bhiwandi, Vasai, Dahanu, Manor, Padgha, Kashi-Mira and other in the Thane rural belt will no longer be limited to the traditional method of manually maintaining record books.

The new installed software called Police Investigation and reports (PIR) will comprehensively maintain entire crime records, history sheet of criminals along with their photographs, fingerprints and other important police data, PIR designed by moPharma, a Mumbai-based company has already been running successfully at about 25 police stations of Mumbai City. Within the next few weeks, Thane Rural Police will also adopt this computerized storage system.
Ramrao Pawar, Superintendent, Thane Rural Police has shown keen interests to computerize all the police stations in his jurisdiction.
Assuming office about a year ago, he ensures constant up gradation of the computer departments to new technology and software, He told Thane Plus, "Last year, we had couple of computers in our entire department leading to lot of manual work. But today, many police stations have adopted LAN system. Writhing a month, PIR will be operational in all 30 police stations. Apart from creating awareness amongst police officials and public about computers, this special software will immensely help police investigations, especially in emergencies" A unique feature is its ability to store FIR, CR and almost all book records in computerized form. With extensive information avail able with click of a mouse, police officials will be relieved of cumbersome record keeping job to a great extend.

Ajit Shirodkar, software expert and partner, Comply Solution says, "Usually a crime is manually registered and then report is sent to higher police officials. This involves time wastage and unnecessary delay in case solving. PIR enables you to access any crime data to any time period instantlyincluding statistical data for a particular police station for a specific crime also." Comply Solution ishandling the computer up gradation for all police stations of Thane Rural Police. "Our set of engineers upgrades the crime data on daily basis for each police station. In future, we plan to interconnect all the police stations to enable more interaction and easy accessibility" adds Shirodkar.

"Our police officials are undergoing computer training to become Computer friendly and net savvy, In today's world of organized crime and terrorist attacks, it is very important to have data on hand and connectivity with other police station will ensure quick response time and more effective work from the police" adds Pawar.
If you are looking to build your next (or first) mobile app and need help with one or more of these steps, you're in luck! The moPharma Group welcomes app owners at any stage in this process. Whether you are a startup or Fortune 50 company, we have the team and knowledge needed to deliver a fantastic mobile app. Please don't hesitate to write us today.
News: Thane-Rural-Police becomes Computer-Savvy