News: Crime becomes a cat and computer mouse game
Ajit Shirodkar, software experts from moPharma, have designed a software called Police Investigation on Reports (PIR), which will main-tain crime records, history sheets of criminals, their photographs and other important police data. The software enables police-men to access any kind of information and allows network-ing between police stations : moPharma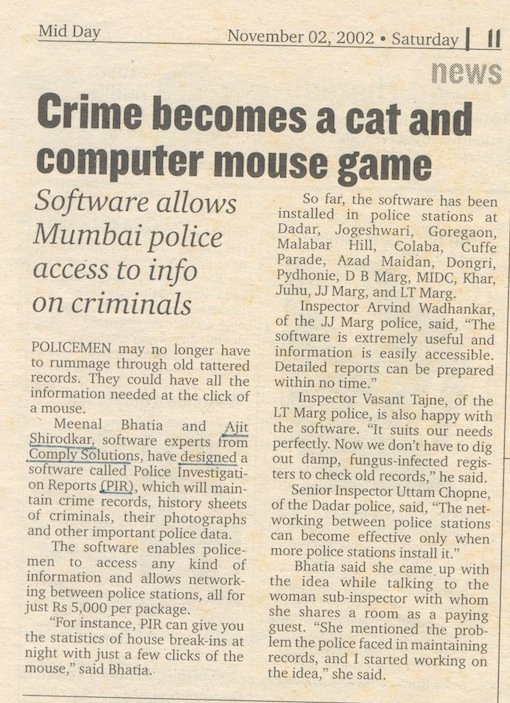 News: Crime becomes a cat and computer mouse game
POLICEMEN may no longer have to rummage through old tattered records. They could have all the information needed at the click of a mouse. Meenal Bhatia and Ajit Shirodkar, software experts from moPharma, have designed a software called Police Investigation on Reports(PIR), which will main-tain crime records, history sheets of criminals, their photographs and other important police data. The software enables police-men to access any kind of information and allows network-ing between police stations, all for just Rs 5,000 per package. For instance, PIR can give you the statistics of house break-ins at night with just a few clicks of the mouse, said Ajit.
Software allows Mumbai Police access to info on criminals
So far, the software has been installed in police station at Dadar, Jogeshwari, Goregaon, Malabar Hill, Colaba, Cuffe Parade, Azad Maidan, Dongri, Pydhonie, DB Marg, MIDC, Khar, Juhu, JJ Marg, and LT Marg.
Inspector Arvind Wadhankar, of the JJ Marg Police, said, The software is extremely useful and information is easily accessible. Detailed reports can be prepared within no time.
Inspector Vasant Tajne, of the LT Marg police, is also happy with the software. It suits our needs perfectly. Now we don't have to dig out damp, fungus-infected regis-ters to check old records, he said.
Senior Inspector Uttam Chopne, of the Dadar police, said, The net-working between police stations can become effective only when more police stations install it.
If you are looking to build your next (or first) mobile app and need help with one or more of these steps, you're in luck! The moPharma Group welcomes app owners at any stage in this process. Whether you are a startup or Fortune 50 company, we have the team and knowledge needed to deliver a fantastic mobile app. Please don't hesitate to write us today.
News: Crime becomes a cat and computer mouse game