How to write for SEO
Have a Glance
Thriving in your online business means that you must go beyond simply "writing content." Your content needs to accomplish two goals: first, appeal to the end-user (customers, clients, prospects, readers, etc.) and second, solve a particular problem.
Ajit: +91 9820621021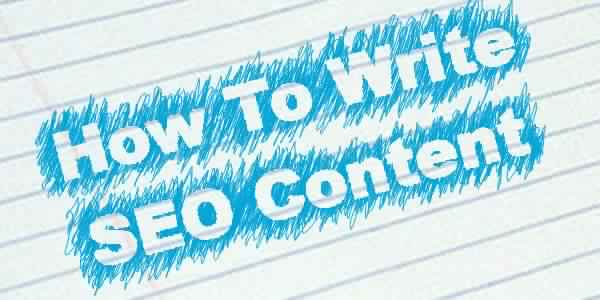 Remember the good old days of SEO,
when all that you really needed to have "valid SEO content" was a certain number of words crossed with a certain percentage targeted keywords and punctuated by a few words linking to targeted pages?
It was simple, and easy, and generally worthless in the long run.
If you want to build your blog audience, you're going to have to get smarter with your content.
One of the biggest challenges that bloggers and content marketers face is writing content that's optimized for search engines, yet will also appeal to people.
According to Copyblogger, SEO is the most misunderstood topic online. But, SEO content isn't complicated, once you understand that people come first, before search algorithms. SEO firms make their money understanding these simple concepts in Digital Marketing.
Thriving in your online business means that you must go beyond simply "writing content." Your content needs to accomplish two goals: first, appeal to the end-user (customers, clients, prospects, readers, etc.) and second, solve a particular problem.
But, how do you create content that meets those goals? How do you create content that ranks well with Google and also persuades people? That's what SEO copywriting is all about. Don't worry if you can't afford an expensive SEO copywriter or Best Digital Marketing Agency in Mumbai. You can do this following simple rules.
And, that's what you're going to learn in this article. It will cover:
What is SEO in Digital Marketing?

Understanding Copywriting

What is SEO Copywriting?

Elements of SEO Copywriting

Writing Useful Content For People

Keyword Research for Content Creation

Copywriting – Getting People to Act
Those days are long gone, and writing for SEO is about much more than simple formulas.
There are, however, a few rules that will help you create content that works for the search engines and your actual customers.
And it all starts by:
Changing Your Perspective for Digital Marketing
We get it. You have an awesome business and you want to tell the world about it.
But you need to change your perspective when you write for SEO.
You need to see things from your customers' point of view and, more importantly, you need to write the things that appeal to their viewpoint.
It's not about showing your customers what you can do, it's about showing them what they get from you.
Marketing Experiments often writes a lot on this subject, and, just to prove their point, they showed how the inclusion of one simple, three-letter word could make a big difference.
And what was that word?
Get.
This simple word shifts the perspective from what you expect customers to do to what value your customers will receive.
Keywords vs. Topics vs. Relationships
There was a time when "keyword density" meant something for SEO content.
You might say that this was considered the "key " to SEO success. (I'll be leaving now.)
There was a lot of focus on what keywords would be the most lucrative, how often they appeared on a page, where they appeared on the page, and the exact words included in the link.
I'm not saying those things don't have an impact, because they kinda do.
It's just that they shouldn't be your first priority.
Keywords may not mean the same thing they used to. Yes, they're important, but the formula isn't one that is clearly defined.
In fact, the most effective use of keywords, now, is to simply guide the topics you write about.
(See how this shift to topics helped increase our own blog traffic by more than 200%.)
Some guidelines are still worth noting. You ought to use the keyword in the title, at least one subtitle and once or twice in the body.
But the thing is: Google can recognize that this is exactly what you're doing. You're putting keywords in certain places just because you're "supposed to. "
It's not going top penalize you for it, but it's not going to be all that impressed either.
Instead, when you think of your keywords as a guide to the topic in question, you may see a few more benefits.
How?
Google is looking at more than keyword usage. They're looking at keyword support, too.
You can see this in the results displayed for many common searches.
Let's say, for example, you searched for the term "Mexican food. "
You'd get a map for the local Mexican restaurants, a side box that is titled "Mexican cuisine, " and several results that list a number of the "Best Mexican Restaurants " in the area.
Notice all the words in the description that Google chose to put in bold? Chicken Tostadas. Chicken Quesadillas. Tacos. Chicken Enchiladas. Even Salad and Rice get the bold treatment.
Previously, the only words Google bolded in the description was the one that was specifically searched for.
Now, Google bolds these other words because it recognizes the relationship between them and your search.
So, don't stress about using every potential form of your target keyword somewhere in your content.
Instead, focus on creating content that effective covers the topic by using the best support words.
Keeping Readers on the Page
The time a visitor spends on a given page can have an impact on how well it ranks in the search engines.
More importantly, this means your readers are far more likely to take the next step and become a paying customer.
You need to keep them reading.
Lists, subheadings, bullet points have been the standard for a long time, and they're still definitely helpful.
But there is more you can do.
There's a good article on Backlinko that recommends using something he calls "Bucket Brigades. "
He describes these as "an old school copywriting tactic that were originally designed to keep people reading sales letters. "
I, however, would interpret them as a form of writing that is closer to: "But wait! There's more! "
Basically, they are lead-in sentences or questions that are supposed to keep you reading. They're usually followed by a colon. Some of the "classics " he recommends include: Here's the deal: This is crazy: Want to know the best part?
(I've been using this principle throughout this blog, but, on a personal note, I really don't care for that kind of writing. It feels like a commercial - more like an infomercial, really. And you didn't come here to be sold something. I know I don't want to be sold on the internet. I want to look at something and determine for myself whether this is something I want.)
But there are more ways to keep people on your website, including:
Supplemental Content
This is something you don't hear talked about all that often, though Google recognizes that it can contribute to a good user experience, making it an integral part of a "high-quality page. "
And quality pages are what it wants to rank.
What do we mean by supplemental content?
Basically, this is any feature that is designed to help users find their way to other parts of your website, whether that's another blog, another downloadable, or any of your products.
This isn't just about linking to other articles, though.
Helpful supplemental content should be relevant to the content and purpose of the page, and offer the user something meaningful.
You can take YouTube as the guiding principle here. Every page on that platform is 90% supplemental content.
Users rely on it to discover their next video, and it keeps them on the site, exploring everything they can.
Just like anything else, though, you need to be careful how you use it. Too much supplemental content and you pass right over "useful " and land right in the middle of "distracting. " And that's not something Google wants to promote.
Writing to a Specific Reading Level
One of the most common recommendations you'll hear about reading levels is that you should write content that is around an 8th grade level.
Readability is certainly important, but, despite things like the Flesch-Kincaid Grade Level or the Gunning-Fog Score and SMOG index, it's kind of subjective.
These are good tools, and can help your writing read more smoothly, but here's the thing:
If you think all of your writing must adhere to this guideline, then you're once again looking for formulas to magically solve all your problems.
Let's say, for example, that your industry creates and delivers extremely complex software solutions to other companies who develop even more complicated tools.
It's safe to say the people who make the decisions in that company are going to have a much higher level of reading comprehension.
So, even if Google counts readability at an 8th grade level a significant ranking factor, it may not help you convert your customers if the writing style feels far too simplistic.
So this, like many other elements of SEO, must consider both the customer and the search engine (and then give priority to the customer).
Ask and Answer Important Questions
You may think you know what questions your customers are asking, but it may just be that you only know the questions you want them to ask.
Why does SEO take So Long? Why Does SEO Need So Much Content? Does Your Domain Name Affect Your SEO? What is an SEO Specialist?
These turned out to be the kinds of questions that our readers want answers to. We can tell, because of how well they've performed.
On the other hand, "How do You Start an Email Marketing Campaign that Actually Works? " definitely fell into the category of what we wanted others to ask us. But, overall, it doesn't seem that a lot of people are asking that on a daily basis.
(Well, it is a question that some people ask, but only at very certain times. So, if you choose to write content like this, be sure that it provides the exact answer they're looking for - and make sure it gives them a reason to take the next step. Otherwise, it may be a lot of wasted effort.)
SEO Writing is Not Just About Using Words to Get Rankings
Producing content that ranks well is clearly an important part of writing for SEO. But it's also about turning those visitors into paying customers.
Remember, there's a little SEO in everything, whether you're talking about content or conversion.
The time on site (which you can optimize for) and the number of click-throughs (which you can optimize for) and the level of engagement (which you can optimize for) and the conversions (which you BETTER optimize for) can all impact your rankings.
And that is all something you can target when writing for SEO.
Learn Digital Marketing Courses
By now, I believe, that you have a fair idea why Digital Marketing is important for pharma sector. Some pharma companies have not yet fully embraced the digital revolution and changing times, while others have. Well, you should understand that it doesn't matter to the patients out there, the patients are increasingly expecting, and rightly so, and demanding the pharma and healthcare industry to engage themselves and provide end-to-end services.
The pharma companies that are aligned to changing times, and are using digital mediums, are also the ones reaping the benefits. Big prizes are waiting for those who can cut through all the digital noise and come-up with sustained competitive advantage using digital mediums. The others will also align soon or go out of business.
There are different ways to learn digital marketing. You can teach yourself using online material and tutorials, or you can Learn Digital Marketing from a Reputed Training Institute. These training institutes have highly experienced professionals and provide you focused and personalized training with lot of live assignments, and also provide you guidance for your placements. There are digital marketing courses specialized specifically for pharma sector.
So, go ahead, learn Digital Marketing and shine on!
Remember…
-Pharma must be in the conversation so to know how to develop better drugs.
-Digital marketing offers many ways to communicate with customers (HCPs and patients).
-Pharma must offer great content that interests customers and helps them do their jobs better. This type of content is easier to approve, less risky and leads to better long-term customer loyalty.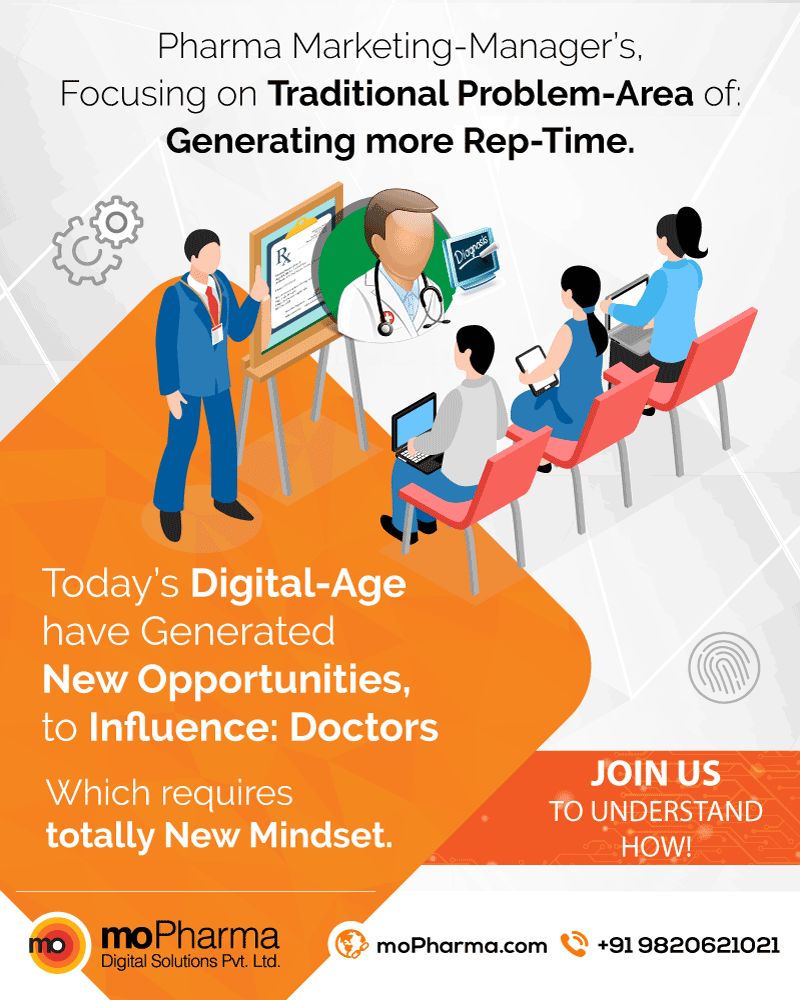 Digital Marketing Corporate Training
Corporate training has evolved rapidly in recent years. It is one of the most significant parts of its growth and long-term investment strategies. It helps to improve employees performance, moral and skills by concentrating on professional development. Corporate Training is the key to ensure development in all the spheres; so that the employees can aspire in this competetive world and bring success on their behalf. Through Corporate Training highest productivity can be achieved when the individual goals are integrated with the organisational goals.
The scope of digital marketing is growing day-by-day. Companies are also focusing on digital marketing. Providing a Corporate Training on digital marketing will help the emlpoyees to boost up their productivity in the organization. It does not restrict you to one specific job profile. Getting a digital marketing training in an organization will help you to get better salary as this is the most fascinating advantage of digital marketing. It will help in making suitable modification whenever necessary. Training in digital marketing helps in creating better understanding of the companies and the employees are able to achieve their professional goals.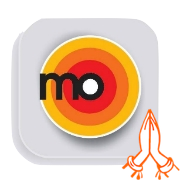 <- read more blogs of your Interest-Category
Please Share.. if you Like
Digital Marketing: Corporate Training Ajit: +91 9820621021 moPharma Leading Digital Marketing Agency for Pharma SEO, SEM, SMO, SMM, eMail Marketing, etc. Esteem Happy Clients:
Hindusatan Unilever, Abbott, MSD, AZ, Lupin, GSK, Lodha, Mumbai Police, Siemens and many more...
How to write for SEO