What is Google Ads?
Have a Glance
What is AdWords?
Google Ads, is Google's advertising system in which advertisers bid on certain keywords in order for their clickable ads to appear in Google's search results. Since advertisers have to pay for these clicks, this is how Google makes money from search.
Ajit: +91 9820621021
1. What is Google AdWords?
To give you the dictionary definition, Google AdWords is an online advertising service developed by Google to help marketers reach their customers instantly.
When someone searches on Google for a particular term, say 'travel packages', Google would throw a list of searches for you. But if you look closely, you will notice that the top and the bottom results are generally ads.
2. Type of ads in Google AdWords
1. Search ads
Like my travel example earlier, when a user searches for something on Google, the list of ads that appear above the organic listing are called search ads. For example, when a user searches for "Kashmir holiday packages", the search results will look something like this.
The ones marked "Ad" are ads. And, the results below that are organic.
Google considers many factors before deciding which ad to display first, as well as the sequence of ads that follow. We'll discuss all these factors, their relative importance, the correlation between different factors etc. in a more detailed chapter later. But, let's take a brief look at them:
Important factors in search ads
Targeting – For instance, your ads will be shown in the geography that you choose (you can go as specific as the ZIP code)
Search term and keyword – What is being searched for by the user + the keyword that you optimize the ad for.
Ad copy relevance – Ads that appear for a specific search term should be relevant. A search for colleges should not throw results for travel packages.
Landing page experience – How relevant is the landing page to what the searcher wanted? Did he get what he was looking for?
Conversion rate – This is again controlled by relevance, landing page quality, and experience.
Bids – If 2 advertisers have perfect ads and landing pages, the higher bid will get preference over the lower one.
Quality score - Quality score again depends on all of the other factors mentioned above. So, it's more like a cycle than everything else. Everything is interrelated.
2. Display ads
Have you ever noticed them? While you are reading a post or viewing a video on some random website, you see ads in a lot of different places on the page, and in different dimensions. These are display ads.
Here the searcher is not explicitly looking for what is ad offers. But, based on a number of factors like keywords, audience interest, managed placements etc, Google decides to show them to you. These display ads only appear on advertising-supported websites.
Keywords – The ads are displayed based on the keywords that they are optimized for. Let's say the keyword for the ad is "Social Media Marketing", then Google would choose websites that have content on the topic.
Placements – Placements are nothing but the websites on which you want your ad to appear. Just add the websites where you want to show the ads, instead of keywords. For example, if you want to show your ads only on travel related websites, then look for advertising supported travel sites and add them to your targeting.
Remarketing – This helps you reconnect with your existing website visitors. Using this, you can target visitors who have come to your website but have not taken any action.
Topic – There are specific topics in AdWords, under which all websites are grouped. It will be easier for the advertisers to choose topics related to the businesses. For example, websites related to travel will be listed under the topic 'travel.'
3. Shopping ads
If you are a retailer, this campaign type would make more sense for you. This ad type boosts traffic to your website and helps in generating quality leads as well as increasing your conversions.
Requirements for running shopping ads:
1. Setup an account with Google Merchant Center (It is a platform that helps retailers to upload all their product listings in a specific format).
2. Setup an account with Google AdWords & link them together.
3. Submit updated product data every 30 days to Google Merchant Center.
Since both the tools are linked together, shopping ads take all the product details from Google Merchant Center, matches the search query and displays relevant ads to the user.
4. Video ads
This ad type lets advertisers run video ads on YouTube and other Google Display Networks.
The 3 main benefits of running video ads are:
1. Better targeting – This ad type has demographic, location, interest, keyword and device targeting which helps you reach the right audience on YouTube and Google Display Network.
2. More reach – As of January 2019, YouTube is the 3rd most visited website and has 30 million visitors every day. Additionally, video ads are also available on Google Display Network. This means that you have access to a wider audience.
3. Measurable – Unlike advertising on TV, YouTube ads let you know all the necessary metrics like views, view rate, clicks, reach and frequency, engagement, performance etc. This helps you measure the success of video ads.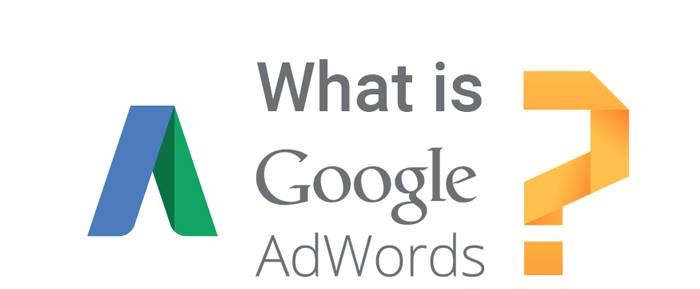 3. Does AdWords work?
Does Google AdWords work? Depending on the competitiveness of the keywords you're bidding for and the relevancy of that keyword to real conversions for your company, AdWords may or may not work for your business. For the most part, we've found that Google AdWords is extremely effective for many kinds of businesses, as long as they don't waste their money on the wrong keywords, or write weak, low CTR ads.
4. Should I Give Google AdWords a Try?
These days, there are a ton of PPC platforms to choose from. You have the Facebook and Instagram Ads platform, Twitter Ads, Pinterest Promoted Pins…the list goes on and on. In Fact, Google AdWords isn't even the only search engine ad platform—Bing Ads and Yahoo Search Ads are options, too!
However, despite all the competition, Google AdWords is still one of the best ways to reach your target audience.
Facebook Ads and other PPC platforms certainly can work and they can work exceptionally well. That being said, being able to reach customers who are searching for products, brands and content like yours (not an option with most social media PPC platforms) is an exceptional (and profitable) opportunity that shouldn't be underrated. It could provide you wit the chance to snatch up easy sales before your competitor does.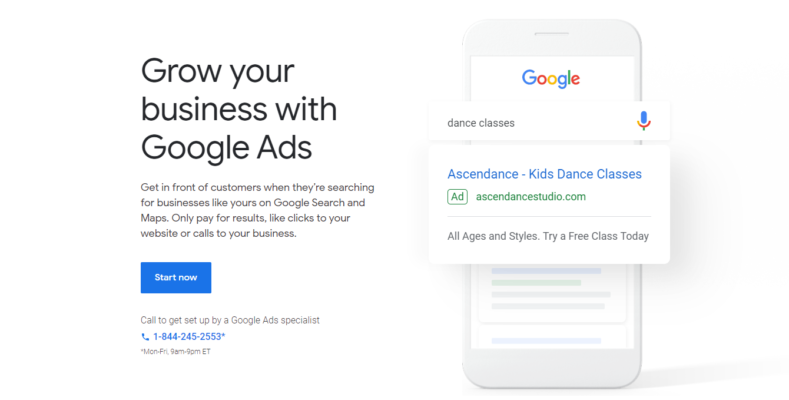 5. How to Create a Google AdWords Campaign
Once you've decided that you want to run Google AdWords campaigns, you need to dive in and start creating them. You'll be asked to create an account, which takes just a few minutes.
Once your account is up and running, you'll be able to create campaigns.
The first thing that you'll do is decide what type of campaign you want to create. You can choose from search ads, the display network, shopping ads (which will show your product to those searching), video ads (which will be displayed on YouTube and on sites online) and the universal app. For this tutorial, we'll create a traditional search ad.
Next, choose what specific goal you want to optimize for: website traffic, leads, or sales.
Once you do this, you'll choose how you're planning on accomplishing those goals—will it be through getting phone calls, app downloads, or site visits? You can select however many you like, then add in the details of what site, phone number, or app you want customers to visit.
On the next screen, you'll name your campaign. You can also choose whether or not you'd also like to enable display ads.
Next, add your location targeting. This will show your add only to people in certain locations, or to everyone but people in certain locations. You can choose countries, states, cities, and zip codes. Immediately after this, set which language your ad is written in.
In the next section, you can choose your bidding strategy. Manual CPC is the only option that gives you full control, though Google's other smart bidding strategies can be good for beginners.
Below this, set your daily budget, delivery method and start and end dates to your campaigns. Your delivery method determines how your ad spend is distributed.
If you choose "Standard", your ad spend will be delivered equally throughout the day. If you choose "accelerated", Google will go through your budget as quickly as possible.
Underneath this, you can add AdWords extensions to provide more information to viewers (always a good idea, especially since it can increase the size of your text ad).
In the next section, you'll choose your keywords. Group similar keywords into a single ad group, but create multiple ad groups to showcase different products and services.
Finally, create your ad. You can enter in two headlines and a description, in addition to any ad extensions you choose earlier on (click here to read more about how to get the most out of your headlines and description).
After this, submit your ad for review. You're officially done! All that's left to do is to monitor your ad once it starts.
6. Advertise on Google with moPharma
Could Google ads be right for your business? Most likely, yes. In 2013, 1.5 million businesses generated $111 billion in revenue from Google's search and advertising tools. Advertising on google can be extremely beneficial for any company with the right strategy.
Google AdWords has a multitude of advertising options and can be complicated. Many advertisers struggle with the commitment necessary to achieve success through paid search or display advertising. That's why mopharma's software and free tools have proven invaluable to thousands of businesses advertising on Google.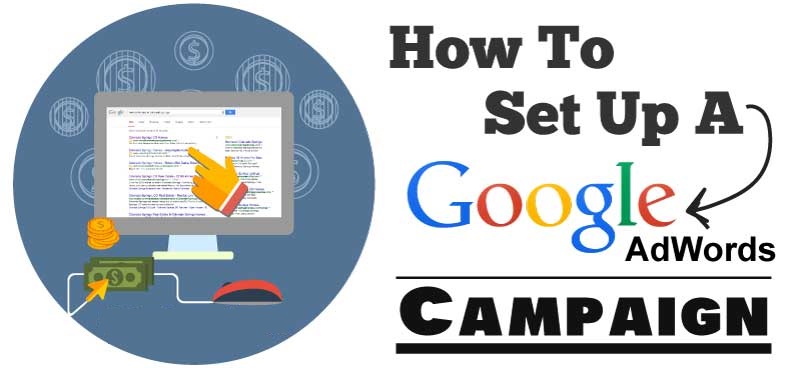 7. What is Google ad rank?
Google ad rank is the position of the company's advertisement on the search engine page based on a combination of the company's maximum bid and quality score.
Ad ranking in Internet marketing is the position of a pay-per-click (PPC) ad on a search engine results page (SERP).
The position of this ad depends on the position of each keyword included in the ad, which is determined by your bid for that keyword or ad group multiplied by the matched keyword's Quality Score.
All other things equal, the more relevant your keywords, ad text and landing pages, the higher your Quality Score, and the higher your ad ranking.
Higher ad ranking typically results in greater exposure for your products or services as a result of experiencing higher click-through-rate on your ads.
8. Conclusion
So, now you know what Google AdWords is, and the types of ads that are available for you to run. My next chapter will give you solid reasons to start with Google ads right away and to improve your ROI using them.
moPharma - a result oriented Best Digital Marketing Agency in Mumbai is passionate about assisting their clients in this Digital Marketing era. Our Digital Marketing Company has a group of skilled and passionate professionals who are enthusiastic to help their clients with Digital Marketing Services like: SEO, SMM, SEM, PPC, Content Marketing, Email Marketing and many more. Our focus is to help our client, achieve their targeted goals, through our digital marketing research, analytics and strategies.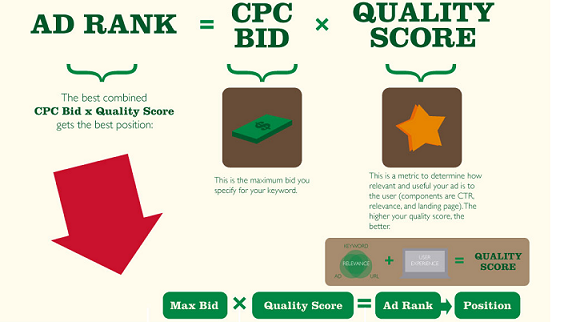 Learn Digital Marketing Courses
By now, I believe, that you have a fair idea why Digital Marketing is important for pharma sector. Some pharma companies have not yet fully embraced the digital revolution and changing times, while others have. Well, you should understand that it doesn't matter to the patients out there, the patients are increasingly expecting, and rightly so, and demanding the pharma and healthcare industry to engage themselves and provide end-to-end services.
The pharma companies that are aligned to changing times, and are using digital mediums, are also the ones reaping the benefits. Big prizes are waiting for those who can cut through all the digital noise and come-up with sustained competitive advantage using digital mediums. The others will also align soon or go out of business.
There are different ways to learn digital marketing. You can teach yourself using online material and tutorials, or you can Learn Digital Marketing from a Reputed Training Institute. These training institutes have highly experienced professionals and provide you focused and personalized training with lot of live assignments, and also provide you guidance for your placements. There are digital marketing courses specialized specifically for pharma sector.
So, go ahead, learn Digital Marketing and shine on!
Remember…
-Pharma must be in the conversation so to know how to develop better drugs.
-Digital marketing offers many ways to communicate with customers (HCPs and patients).
-Pharma must offer great content that interests customers and helps them do their jobs better. This type of content is easier to approve, less risky and leads to better long-term customer loyalty.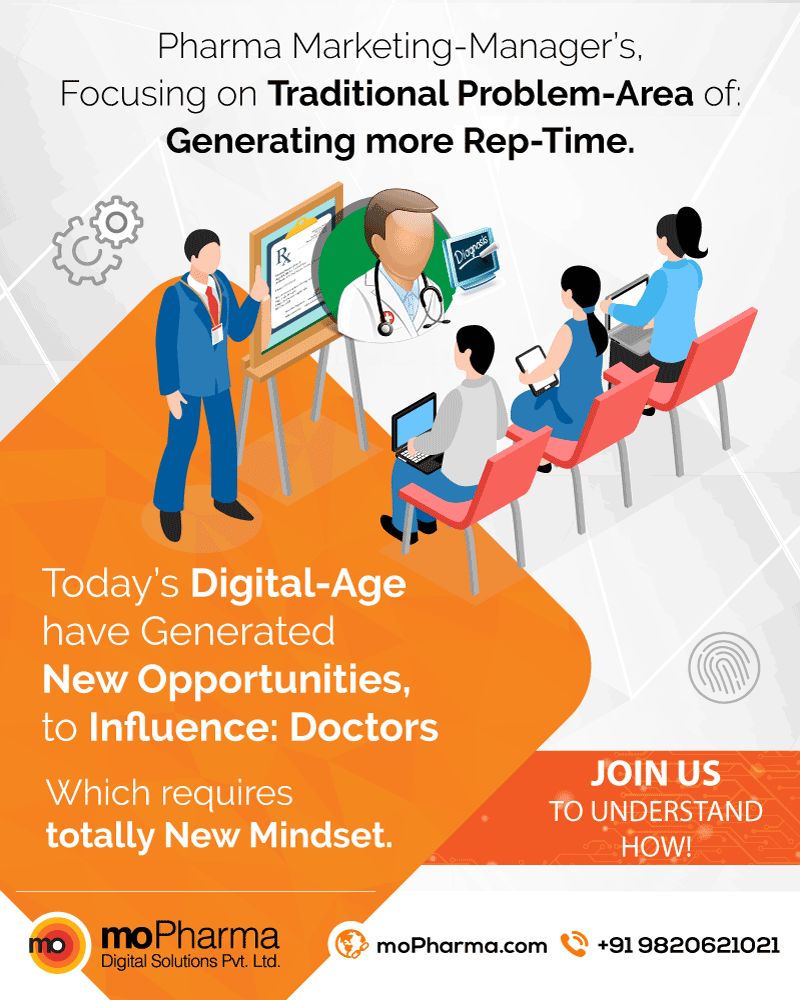 Digital Marketing Corporate Training
Corporate training has evolved rapidly in recent years. It is one of the most significant parts of its growth and long-term investment strategies. It helps to improve employees performance, moral and skills by concentrating on professional development. Corporate Training is the key to ensure development in all the spheres; so that the employees can aspire in this competetive world and bring success on their behalf. Through Corporate Training highest productivity can be achieved when the individual goals are integrated with the organisational goals.
The scope of digital marketing is growing day-by-day. Companies are also focusing on digital marketing. Providing a Corporate Training on digital marketing will help the emlpoyees to boost up their productivity in the organization. It does not restrict you to one specific job profile. Getting a digital marketing training in an organization will help you to get better salary as this is the most fascinating advantage of digital marketing. It will help in making suitable modification whenever necessary. Training in digital marketing helps in creating better understanding of the companies and the employees are able to achieve their professional goals.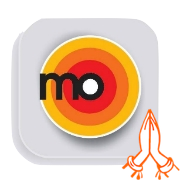 <- read more blogs of your Interest-Category
Please Share.. if you Like
Digital Marketing: Corporate Training Ajit: +91 9820621021 moPharma Leading Digital Marketing Agency for Pharma SEO, SEM, SMO, SMM, eMail Marketing, etc. Esteem Happy Clients:
Hindusatan Unilever, Abbott, MSD, AZ, Lupin, GSK, Lodha, Mumbai Police, Siemens and many more...
What is Google Ads?