Benefits of e-Detailer in Mumbai on the Mobile Platform
eDetailer has become an increasingly popular communications channel for companies looking to reach out to medical professionals to educate them on the benefits and capabilities of their products.
moPharma
In recent years, looking for avenues to reduce costs, and increase measurement of their traditional traveling sales forces, medical and pharmaceutical companies have been drastically increasing their investment in eDetailer over traditional print collateral.
As a way to maintain a competitive advantage, companies are beginning to look at the mobile app development platform as the ideal solution to enhance their traditional detailing efforts. Indeed, "mHealth" (mobile health), and "mDetailer" (mobile detailer) have become buzzwords that are now finding space in the pages, Fast Company, and Business Week as conversation shifts towards strategies that can enable and help grow your mobile sales force. Mobile app development as an industry is growing at an incredible rate (set to overtake desktop browsing next year) and presents great possibilities and opportunities for the healthcare industries to enhance their eDetailer efforts.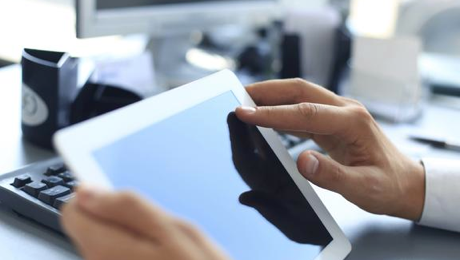 Benefits of eDetailer for a Mobile Sales Force

It is still the case that many professionals prefer the familiarity of a one-on-one interaction, and the assurance that a handshake can offer. At the same time, with the demands of their positions, many find it hard to make time for a sales presentation.

Developing engaging, innovative, and comprehensive mobile eDetailer (mDetailer) presentations can allow your sales staff to get to the meat of the conversation, and provide the exact content that their customer is looking to learn about. Providing visual demonstrations of how a product works, and allowing professionals to engage with and "drive" also gives them the opportunity to explore and learn more than they typically would with a paper presentation.

With mDetailer you can also implement analytics, measurement tools, and the opportunities for professionals to request more information in the form of sales collateral or even samples. You can accomplish the same tasks as a traditional detailing sales call but with greater efficiency and deeper engagement.

Sales teams are always looking for a way to build a stronger connection with their customers—this is precisely what you can do when you make an investment in a great mDetailing offering.

Delivering eDetailer directly to Decision Makers

Given the growth statistics for mobile app development technology, as well as mHealth, odds are good that doctors and purchasers have a tablet or a smartphone on the job. By giving professionals the opportunity to explore your offerings on an iPad, for example, they are much more likely to make a meaningful engagement with your sales presentation.

As confidentiality of sales collateral is key, you can provide professionals with an invitation to enter a gated environment to download and install your detailing software application without making it public in the global app stores.

Allowing your purchaser the opportunity to download an exclusive copy of your mDetailer creates a special, individualized venue for positive interaction with your product and brand.

Metrics and Measuring Engagement

Implementing a mobile eDetailer platform for your organization gives you an incredible new window into your sales force as well as what your customers find interesting within your presentations. Mobile analytics for eDetailer can show you what areas of your presentation are viewed most, and by integrating with your sales scheduling software, you can even determine the engagement level of each individual sales call.

These metrics are invaluable information that cannot be leveraged with traditional detailing. We find that our clients are able to learn a lot by discovering what professionals find important about their products, both through metrics as well as feedback and requests that they receive through their mobile applications. Knowing which professionals to target, what information to focus on as presentations are developed, and the kinds of results to expect from your campaigns will better help you gauge the effectiveness of your campaigns.

A Prescription for Success

No matter the route you chose to take, developing an eDetailer offering that takes advantage of the immersive nature of the mobile app development platform can help you measure your customers' engagement and thus better gauge the results of your campaign.

Making an investment in eDetailer on the mobile platform has the potential to boost your sales in the short term, and it will position you with the information that will help you to ensure continued growth well into the future.
Benefits of e-Detailer in Mumbai on the Mobile Platform